No.1 Magician Cheltenham
Robert is a professional Cheltenham magician that has entertained the likes of Paul McCartney, Harry Styles, Usain Bolt and The Royal Family. You can hire Robert to perform his unique magic and mind reading at any event in Cheltenham including weddings, corporate events and parties. Robert is one of the top Cheltenham close up Magicians available to hire and has performed professionally for over 15 years.
Book Cheltenham magician Robert now for your private party, wedding or corporate event.

You may be reading about Robert having seen him bamboozling guests at a recent Cheltenham function and asked him for a business card or you might have popped "magician in Cheltenham" into your computer or tablet. Either way, if you have a forthcoming event in the Cheltenham area and would like top quality, jaw dropping close up magic and mind reading then drop Robert a line.

See Robert performing close up magic and mind reading at a recent event. These are the reactions you can expect from your guests…
Mind Reading Cabaret Showreel
Getting Married? Book A Cheltenham Wedding Magician
Ok, your venue have confirmed, your caterers are sorted and now you're thinking it's time to book some entertainment to add that X factor to the day. Robert is one of the busiest Cheltenham Wedding magicians working and couples often book him up to 3 years in advance of their wedding day.
Performing as a wedding magician over 100 times a year Robert is more than happy to go through your wedding day plans to discuss the best performance times with you. For most weddings, the best time for a wedding magician to wow your guests is during the photos / drinks reception or table to table during the courses of your wedding meal. More info Cheltenham Wedding Magician
Amazing guests as a Cheltenham magician at ample weddings over the years has resulted in Robert getting to know other top wedding suppliers. He would be happy to help with further recommendations for your Cheltenham wedding.
Want A Party Magician In Cheltenham?
Arranging a surprise party, special anniversary, birthday meal, bar mitzvah, house party or any celebration? As a hugely experienced professional party magician in Cheltenham Robert is able to entertain at any size event and can adapt his performance to suit all age groups. It's often difficult to make your private party stand out and be remembered but with Robert in attendance you can be sure your guests will remember your party for a very long time!. More info Cheltenham Party Magician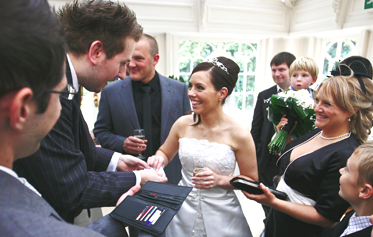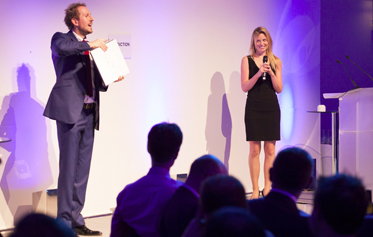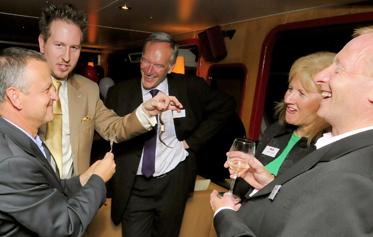 Hire Corporate Magician In Cheltenham
As a first class Cheltenham corporate magician Robert gets booked for a whole range of different company events. Robert's impressive list of repeat corporate clients hire him for corporate fun days, exhibitions, staff training events, award nights, industry conferences, staff parties and networking events. There aren't many Cheltenham magicians that are as busy in the corporate field as Robert and if you book him as your corporate magician you'll discover why. More info Corporate Magician in Cheltenham
Cheltenham Magician Trade Shows
Cheltenham Magician Robert specialises in trade show stand work. Have you got an exhibition forthcoming where you would like to get more leads than you ever thought possible? Robert can achieve this for you. He uses his expert magic skills to draw crowds to your company stand, with his routines and tricks themed around your company messages and logo. Few Cheltenham magicians are as popular as Robert in the trade show market. He has worked with his clients at their shows for 15 years and more, plus often works as a trade show magician at many of the busiest shows in the country.
Magician Cheltenham – Christmas Party
Secure the services of the number one magician Cheltenham has to offer and make your company Christmas party a night to remember. Staff members look forward to their Xmas party all year so reward them with something extra special this year. You'll be delighted to see your staff's reactions as Robert pulls money out of nowhere, performs staggering card feats, reads people's thoughts and makes borrowed objects travel invisibly.  Robert is unsurprisingly busy the whole of December as a party magician around Cheltenham, so please book early.
Staff Training Day Cheltenham Magician
Take an innovative approach and obtain greater results at your next company training day. As a magician in Chelmsford Robert can be booked to perform a jaw dropping, memorable mind reading / magic act at your next training day. Not only will he have your staff totally enthralled but he'll convey your company's key messages within his act. Robert can also provide magic workshops where he teaches all your staff some simple, but very impressive, magic tricks.
When booking Robert for your event you can relax knowing that he is a full-time close up magician and mind reader who is covered by full Public Liability Insurance.