No.1 Magician Surrey
Robert Fox is a Surrey Magician who has performed for Royalty, sports stars and top musicians. Robert has been performing as a Professional magician for over 15 years' at all types of events and is one of the most respected and popular magicians in the country. Robert astounds guests with his unique mix of close up magic and mind reading which he performs with great humour.
As a Surrey magician Robert can be hired to perform at events such as weddings, corporate events and parties.

You could be on this page at the moment having typed 'magician in Surrey to hire' into your computer or maybe you recently saw Robert performing as a Surrey magician and got one of his calling cards. Either way please get in touch with Robert directly to discuss your forthcoming event.

Here's footage of Robert performing at a recent function. These are the kind of reactions you can expect from your guests…
Mind Reading Cabaret Showreel
Looking for a Surrey Magician To Amaze Your Wedding Guests?
It's no exaggeration to say that your wedding day is the most magical of your life. Using a magician to entertain your friends and family is the perfect additional to your special day. As an experienced Surrey wedding magician Robert will be more than happy to talk to you about when is best to perform, however, they are two very popular times. One to entertain people during the photo period and the other is during the wedding breakfast. See more Wedding Magician in Surrey
Having performed as a professional magician in Surrey and the surrounding areas for a several years Robert has developed a great relationship with many Surrey wedding suppliers. If you would like any recommendations of local suppliers for your Surrey wedding then Robert would be more than happy to help.
Corporate Entertainment
Looking for a magician in Surrey to perform at your company dinner, exhibition, drinks reception, new product launch, client conference, important trade show, end of year party or team building day? If so, get in touch with Robert. As a hugely experienced corporate magician in Surrey he has performed at every type of corporate event imaginable and will be happy to discuss your requirements. See more Corporate Magician in Surrey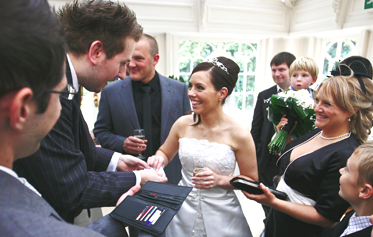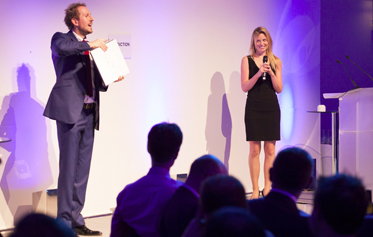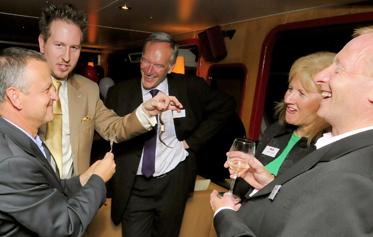 Surrey Party Magician for Hire
As a party magician in Surrey Robert performs at birthday celebrations, landmark wedding anniversaries, house parties, engagement celebrations, garden functions and bar mitzvahs to name just a few. If you want to be assured that your guests will be bewildered and amused in equal measures than get in touch with Robert. See more Party Magician in Surrey
Surrey Magician Trade Shows
Surrey Magician Robert is a specialist trade show stand performer and speaker. Your company has one main objective when they exhibit at a show which is to get as many delegates to their stand as possible throughout the day. Robert is able to get the greatest number of people onto your stand, drawing crowds in performing bespoke routines designed around your company. There aren't many Surrey magicians who work the number of trade shows Robert does, he's been working with his clients at exhibitions for over 15 years' to date. He works as a trade show magician all over the world and is a regularly at UK venues such as Olympia and Excel.
Magician Surrey – Christmas Party
It's December once more and you're looking to reward all your staff with a company Christmas party to remember! Hire the best magician Surrey has available for your company Xmas celebrations and you won't be disappointed.  Watch all your staff's reactions as Robert reads minds, changes £10 note into £50 notes, bends cutlery and makes someone's ring appear in his own wallet and you'll know you've made the right decision! Robert gets booked up very early in the year as a Christmas party magician around Surrey so it's recommended to enquiry at the start of your Xmas party planning.
Staff Training Day Surrey Magician
Robert gets booked by top companies to attend their annual staff training days. As a magician in Surrey Robert is able to offer a bespoke, unique performance at your next staff training day, which will include and highlight key company messages. His high impact performance with keep staff engaged in the training. In additional, Robert is able to give little workshops to the staff, taking them away in groups to teach them some basic sleight of hand magic tricks.
Robert Fox is a fully insured magician and a member of Equity. He has performed at literally hundreds of weddings, corporate events and parties.