Hire No.1 Magician Reading
Robert is a professional Reading Magician who's been praised by many celebrities including Chris Martin, Harry Styles and David Haye. He's got well over 15 years' performing experience and has entertained at literally hundreds of corporate events, weddings and private functions. He regularly entertains at some of Reading's top venues including the Madejeski Stadium, Royal Berkshire Conference Centre and Wakefield Park. So if you've got an upcoming event scheduled and are seeking a magician in Reading to amaze and stun all your guests then check Robert's availability below.
Book Reading magician Robert now your forthcoming corporate event, private party or wedding day.

Whether you're here now having searched 'Reading magician for hire' or have been given a personal recommendation of Robert's act by a friend or colleague please do get in touch today and Robert will be happy to discuss your event with you.

See Robert performing recently at a function in Reading. This will give you a good idea of how your guests will react…
Mind Reading Cabaret Showreel
Hire Reading Magician To Entertain Your Wedding Guests
You've secured a Reading venue for your wedding day and are now seeking that special wow factor? A Reading magician to entertain all your guests is the perfect addition. Robert performs as a wedding magician at well over 100 weddings every year and his unique mixture of sleight of hand and mind reading is guaranteed to leave your guests speechless.
Robert will be more than happy to discuss your wedding day and when the best time to entertain is, however, two popular options are during the drinks reception and throughout the wedding meal. See more Reading Wedding Magician

With years of experience as a professional Reading magician Robert has developed some great relationships with other wedding services. If you need any help or would like any recommendations of suppliers for your wedding in Reading then let Robert know.
Got A Private Party? Hire The Reading Party Magician
A hugely in demand Reading party magician, Robert will leave your guests gasping in wonderment at your next private event. He entertains across Reading at all private events including house parties, engagement parties, birthday parties, summer balls, bar mitzvahs and anniversaries.
Robert often gets booked well in advance, especially for weekend dates, so if you are seeking a Reading magician it's advisable to enquiry early to check Robert's availability. See more Reading Party Magician for Hire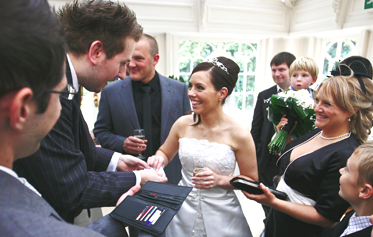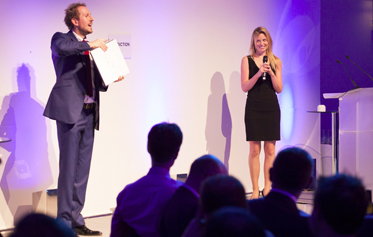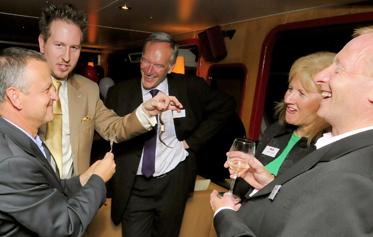 Corporate Magician for Reading Event
Robert is one of very few Reading magicians who performs all across Europe at corporate events. He's a regular performer at many corporate events in Reading including award evenings, store openings, training days, trades shows and conferences. As a Reading based corporate magician Robert has developed an impressive list of corporate clientele who repeatedly book his services for their company events. Robert is also a master exhibition magician, able to draw mass leads to your company stand at your trade shows. See more Corporate Magicians Reading
Reading Magician Trade Shows
Reading Magician Robert is a top trade show stand performer. At exhibitions your company goal is to get as many leads as possible. Entertaining with unique tricks designed around your company's products and slogans, Robert is able to draw mass attention to your stand and hugely increase the number of visitors. There are few Reading magicians who have the trade show experience that Robert has, he has generated leads for his clients at shows for over 15 years and works as a trade show performer all over Europe at some of the largest exhibitions.
Reading Magician for Christmas Parties
Take your corporate company Xmas celebrations to another level with a stylish and funny magician in Reading. Allow Robert to mix with your staff in the drinks reception, work the tables or perform his grand cabaret extravaganza. You're staff will be thanking you well into the new year if you hire Robert for your Xmas entertainment. As a side note, do make sure you look into your Xmas party entertainment long before we hit December. As a popular Reading magician gets booked well in advance for Christmas events, with many repeat Xmas clients.
Staff Training Day Reading Magician
Companies often bring Robert in for their training days. As a magician in Reading Robert often gets booked to attend staff training days where he provides an engaging, bespoke magic and mind reading performance.  His performance also incorporates key company messages. His enthusiasm, and tireless energy levels, keep staff focused on the training. He can also teach staff some basic magic tricks which they are able to do themselves.
Robert is a full-time professional Reading magician who has Public Liability Insurance.