No.1 Magician Swindon
Robert's a Swindon Magician who has stunned and amazed the likes of Chris Martin, Tinie Tempah, Anne Robinson and Sir Paul McCartney. If you've got an upcoming event in Swindon planned and require an experienced magician to add that all important X factor then check Robert's availability below. He regularly entertains as a close up magician in Swindon at some of the top venues including Chiseldon House, Bowood Hotel and Ardington House.
Book magician Robert Fox today for your forthcoming wedding day, private party or corporate engagement.

Whether you're simply keyed "magician in Swindon" into your tablet or desktop or got Robert's details after witnessing a recent performing get in touch today to discuss your event.

Check out Robert amazing guests at a recent Swindon event. These are the kind of reactions you can expect at your own function…
Mind Reading Cabaret Showreel
Swindon Magician for Corporate Events
Robert's a vastly experienced Swindon corporate magician and mind reader who is guaranteed to deliver that all important wow factor to your next company function. So if you're in need of a first class entertainer for your next staff training day, client drinks reception, exhibition, store opening, product launch or company Christmas party then get in contact. Many corporate clients utilise Robert's skills on their trade show stand to draw mass attention to their company products. His interactive, hilarious mind reading cabaret is also a massive hit in the corporate sector. See more Swindon Corporate Magician
Swindon Wedding Magician
Have you got a wedding venue secured in Swindon and are now on the lookout for the ultimate entertainment for your special day? Hiring Swindon magician Robert for your wedding day is perfect for breaking the ice between your guests, many of which may never have encountered each other before, as well as leaving them with an amazing memory of your wedding day. Robert is hugely in demand as wedding magician in Swindon and it's advisable to enquiry early on in your planning.
Robert is happy to talk with you in advance in order to discuss the best time for him to entertain. Two very popular options are for him to perform during the pre-lunch drinks, when he can circulate your guests, or to perform at each table during the courses of your wedding meal. More info Wedding Magician in Swindon
If you would like any recommendations of other Swindon wedding suppliers then get in touch. Robert has an excellent relationship with many other local suppliers having spent so many years entertaining at weddings throughout Swindon.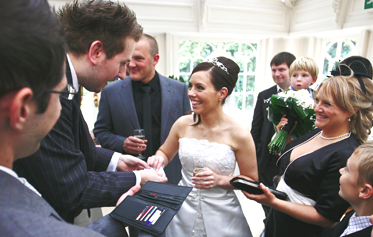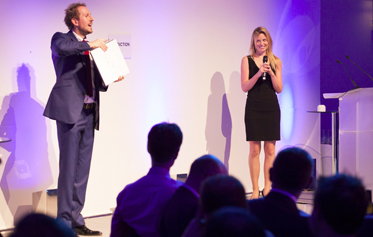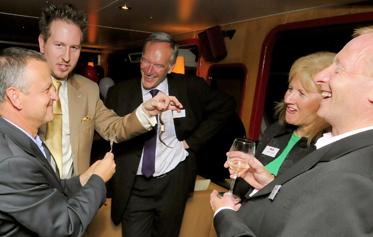 Party Magician Swindon
Robert has well over 15 years experience bamboozling guests at private parties in Swindon with his contemporary sleight of hand and mind reading act. Have you got a landmark birthday soon? An anniversary? A house party? Robert can adapt his performance to suit all ages so none of your party guests will be left out. Whether you have a small function with only 20 guests or a large garden party with over 150 in attendance Robert is able to provide an entertainment package to suit your requirements. More info Swindon Party Magician
Swindon Magician Trade Shows
Swindon Magician Robert is a vastly experienced, hugely in demand trade show stand attractor. Want to increase the traffic flow to your stand at your next show? Then make contact with Robert to discuss. He can draw substantial crowds in by using jaw dropping magic, which not only entertains, but also incorporates your company products and logos. Few Swindon magicians have the expert knowledge of trade shows that Robert has, he's been doing them for his clients for 15 years plus. He's available as a trade show magician for any type of show, for any industry.
Magician Swindon – Christmas Party
Seeking a Swindon magician to bewilder, amaze and delight all your company staff at this years Christmas party? Look no further – Robert is available for Xmas parties of all sizes, whether it's a drinks event in your local hotel or a marque with 400 employees, he has an act suitable for the occasion. Staggering card routines, impossible thought reading and pick pocketing are just a few options Robert offers. So if you want a Christmas party magician around Swindon book Robert early in year to avoid any disappointment.
Staff Training Day Swindon Magician
Try something creative and imaginative to achieve greater results at your next staff training day. As a magician in Swindon Robert provides company's with special, informative mind reading shows at their staff training days. The shows are completely bespoke and designed to highlight all the vital training messages to the staff. Additionally, Robert can hold a magic workshop with all the staff to teach them all some simply sleight of hand routines.
Robert is a full time professional entertainer available for all events across Swindon and has Full Public Liability insurance.