No.1 Magician Watford
Robert Fox is a professional Watford magician who has amazed the likes of Harry Styles, Chris Martin and Sir Paul McCartney. Robert has been performing for over 15 years' and specialises in entertaining at weddings, corporate events and parties. A regular performer at some of the top venues across Watford including The Grove, Sopwell House and Watford FC Robert always adds that X factor to an event. So If you have a forthcoming event planned and want a magician in Watford to stun and amaze your guests then get in contact with Robert.
As a premier Watford magician and mind reader Robert is available to book at your wedding, corporate event or private party.

Whether you are currently viewing Robert's site having typed 'Watford magicians for hire' into your computer or have been recommend his services by someone who has previously booked Robert, please feel free to get in touch today.

View Robert performing for guests recently at an event. These are the kind of reactions you can expect from your guests…
Mind Reading Cabaret Showreel
Planning Your Wedding? Book a Wedding Magician in Watford
Do you have a venue booked in Watford for your wedding? A Watford wedding magician is the perfect addition to your special day. Robert is a vastly experienced, and very in demand, wedding magician who performs stunning visual magic and mind reading which is guaranteed to leave your guests with a truly unique memory of your big day!
Robert's happy to discuss your wedding day plans but, for the most part, two particular times work very well. Either Robert can amaze your family and friends during the photographs or perform at each table throughout your wedding dinner. See more Watford Wedding Magician

Having entertained for many years as a professional Watford magician Robert now has some excellent relationships with local wedding services. He would be very happy to give recommendations for your wedding in Watford.
Magician For Corporate Event in Watford
Robert is one of only a handful of Watford magicians who regularly perform on the corporate scene. He performs at a host of different corporate functions in Watford including company dinners, drinks receptions, staff training events, conferences and company Christmas parties. As a Watford based corporate magician Robert has an impressive list of corporate clients who repeatedly use his services year after year. It's also worth noting that Robert is a specialist trade show magician who can draw attention to your company stand. See more Corporate Magicians Watford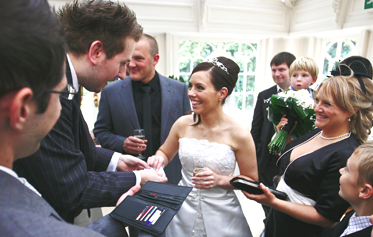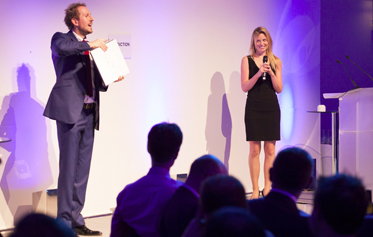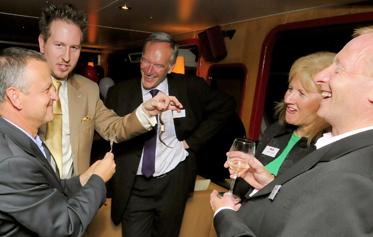 Having A Party? Book The Watford Party Magician
An experienced and popular Watford party magician, Robert knows exactly what's needed to add that all important WOW factor to your private event. He regularly bamboozles guests at private events across Watford including birthday celebrations, anniversary dinners, house-warming parties, bar mitzvahs, christenings and summer balls. Contact Robert today to see what he can offer for your next private party. See more Watford Party Magician For Hire
Watford Magician Trade Shows
Watford Magician Robert is a premier trade show performer. At trades shows companies want to have as many people visit their stand as possible. Robert can draw people to your stand performing tricks designed around your company's logo, services and products. There aren't many trade show Watford magicians with the vast experience Robert has working with companies at their shows. He's been doing it for over 15 years' to date and works as a trade show magician all over the UK at some of the biggest venues including Excel, Olympia and NEC.
Magician Watford – Christmas Party
Don't leave your Christmas party entertainment to the late minute! Secure the premiere magician Watford has on offer now for your Xmas celebrations. Robert can entertain all your colleagues during the drinks, circulating tables or on stage with his mind reading cabaret. You'll know you've made the right choice as you watch your colleague's react as Robert tells them the name of their first childhood pet, makes objects travel invisible, performs jaw dropping card tricks and solves a Rubik's cube in under 10 seconds. He is massively in demand as a party magician around Watford over December so please book early in the year.
Staff Training Day Watford Magician
Robert is always a hit at company training days. As a magician in Watford Robert regularly gets hired by top companies to attend their staff days. Using his magical skills Robert can provide a bespoke performance for your staff which incorporates some key messages that you want delivered. His high energy and unique approach will ensure these messages hit home. Magic workshops are another option, where Robert takes staff away in small group to teach them some basic magic.
When booking Robert you can relax knowing you're in the hands of a full-time professional Watford magician who has Public Liability Insurance.